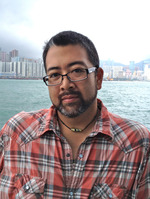 Ira Sukrungruang of Brandon, Florida, has been named first winner of the Anita Claire Scharf Award from Tampa Review. His book of poetry, In Thailand It Is Night, will be published in Spring 2013 by the University of Tampa Press and the poet will be invited to read on the University of Tampa campus after the book is published next year.

The Anita Claire Scharf Award is given to support publication of a book of poetry submitted to the annual Tampa Review Prize competition that significantly exemplifies the interrelatedness of visual and verbal art and the interconnections of global culture. The award is named in honor of the founding editorial assistant, and later associate and contributing editor, of Tampa Review who helped define the aesthetic and global values that are part of the journal's mission.
"This is a manuscript that Anita would have urged us to publish,"
said Richard Mathews, editor of Tampa Review, who worked with Scharf on the journal for more than seventeen years. "Ira has written poems that resonate with love for visual art and the natural environment, with appreciation for the balance and ecology of life. His poems are full of learning and attention to detail without ever being pedantic or arrogant.

"These poems delight us and invite us in," Mathews said. "We feel comfortable and welcome into a clearly global culture in which Buddha and karma and reincarnation are as natural as patting a dog on the
head or visiting McDonald's for a snack."
Sukrungruang's poems have appeared in Georgetown Review, Ninth Letter, River Styx, Salt Hill, Witness, and other journals, and he was chosen for Best New Poets 2005. This will be his first published collection of poetry, but he is the author of the memoir Talk Thai: The Adventures of Buddhist Boy, published by the University of Missouri Press in 2010, and the coeditor of two published anthologies on the topic of obesity: What Are You Looking At? The First Fat Fiction Anthology and Scoot Over, Skinny: The Fat Nonfiction Anthology.

He is the recipient of the New York Foundation for the Arts Fellowship in Nonfiction Literature, an Arts and Letters Fellowship, and the Emerging Writer Fellowship. His prose work has also appeared in many literary journals, including Post Road, The Sun, and Creative Nonfiction. He is one of the founding editors of Sweet: A Literary Confection (sweetlit.com), and teaches in the MFA program at University of South Florida.

"Ira Sukrungruang is the perfect recipient for the first Anita Claire Scharf award," Mathews said. "Anita would have loved the frequent images of birds in these poems—cranes, peacocks, crows, cardinals. As a devoted bird-watcher, she would have noticed each one, and would even have been delighted by the 'squiggling baby snakes' and 'flying cows.'

"This manuscript speaks to an ecology in both the natural and spiritual worlds, and it calls us to be attuned to a delicate balance," Mathews said. "Gentle humor and deep feelings abound in these poems, and that's another balance Anita would applaud."

The Anita Claire Scharf Award is selected by the editors of Tampa Review from among the manuscripts submitted to the annual Tampa Review Prize competition. Submissions for next year's awards are now being accepted.

To be eligible, authors are asked to submit a previously unpublished book-length manuscript. Judging is by the editors of Tampa Review, who are members of the faculty at the University of Tampa. There is a contest fee of $25, but each submitter receives a complimentary one-year subscription to Tampa Review. Entries must follow published guidelines and must be postmarked by December 31, 2012. All entries will be considered for both the Tampa Review Prize for Poetry and the Anita Claire Scharf Award.
---
Complete guidelines are available at
www.ut.edu/tampareview
or by sending a self-addressed, stamped envelope to The Tampa Review Prize for Poetry, University of Tampa Press, 401 West Kennedy Blvd., Tampa, FL 33606.